SnapIt Screen Capture 3.7 Review & FREE copy offer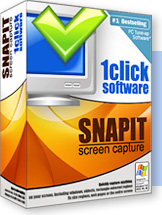 SnapIt Screen Capture 3.7 is easy to use
Screen Capture Software
which allows you to easily capture anything on the screen including windows, menus, full screen, rectangular regions, web pages and even take shots of moving images.
- Supports hotkeys, auto-saving, clipboard
- Automatically copies screenshots to the clipboard
- Tracks capture history, auto-saves captured images
- Saves files in BMP, GIF, JPEG, PNG and TIFF formats
- Auto-names captured images
I was really excited to try this software since my Dell laptop doesn't have the screen capture capabilities that my Mac at work does, so I would always spend awhile trying to capture the small portion of my screen that I wanted with my laptop - it was such a hassle! Now it takes literally seconds to capture what I want - which is usually the winning Random.org numbers for my giveaways - and it's super easy to use. You just hit the "hot key" (PrintSCRN for me) and then click and drag the box over the portion you want to "capture". It automatically saves the image in a folder. I tested this out with the image on the right.
Want a free copy of this software?
Just download and install
SnapIt Screen Capture 3.7 14-day trial
, then write a review in any blog/forum/twitter/facebook or other social media, and contact Julia Taylor at julia.taylor@digeus.com with link to the review. She will then issue a registration code and name for you for the full software!