Welcome Wednesday!
Welcome to my blog everyone, and welcome especially to new visitors!
I just started my
Beauty on a Budget
event, and my first giveaway for the event is a
Charm Factory charm bracelet
. The winner will get to choose the charm bracelet of their choice! And just a reminder - the
Cystex Cranberry Complex giveaway
ends on Thursday and there is a low entry count, so be sure to sign up! Have a wonderful day :)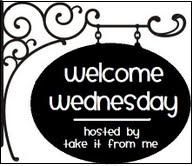 Wordless Wednesday
Yo Quiero Ser Un Cheapskate4Life!