Win, Lose, or Blog (From 0 to 5k)
I just joined the blog "Win, Lose, or Blog" because I think it's a fantastic idea!
Here is an excerpt from the blog: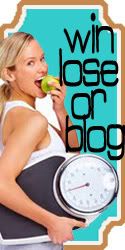 "Let's face it, when you're into blogging you spend a lot of time sitting in front of your computer. . . and maybe even snacking. Not a good combination! Win, Lose or Blog is a fun new competition designed by six lovely ladies who are on a mission to make blogland a healthier place.

Each "season" of our competition will last eight weeks and each season we will choose eight new contestants. Contestants will blog about their experiences and track their progress for all to see. They will serve as an inspiration to all of us and hopefully they won't be the only ones who accept our challenge to start some healthy habits."

I particularly love this idea because I just began blogging and noticed how much time I've been spending SITTING! Not that I was particularly active before, especially with an office job, but anything's better than sitting!
Plus, I have signed up for my very first 5k in September and need serious help/motivation since
A) I am not a runner/athlete/etc.
B) I have about 50 extra pounds weighing me down, and
C) The only times I've ever run were in grade school and high school during phy. ed when we had to run the "dreaded mile" (during which I almost died)!
I think Win, Lose, or Blog will be a good motivational tool, but I am also asking my readers & visitors to give me tips on how to go

from 0 to 5k in less than 2 months!