Spotlight Saturday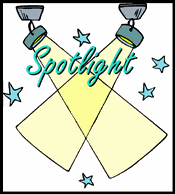 Spotlight Saturday
Well, the weekend is finally here and I am having a lazy Saturday! It's been great! Of course, part of the reason I haven't done much yet today is because my entire body hurts from run/walking a mile yesterday. It was my first time actually running! I just did short spurts between walking, but I am still proud of myself! Of course, my touch cell phone was in my little backpack and it called a bunch of people while I was running, but I guess that's the downfall of taking your phone along when you run!
On another note, I just received some awesome products to review and I'm very excited to test them out! I think I will do that now :) Which reminds me - THANK YOU to all my followers for your support! I can't believe we have surpassed 50 followers already! I truly appreciate your support and interest in my blog.
Have a wonderful Saturday everyone - I hope you find some time to be lazy today too!